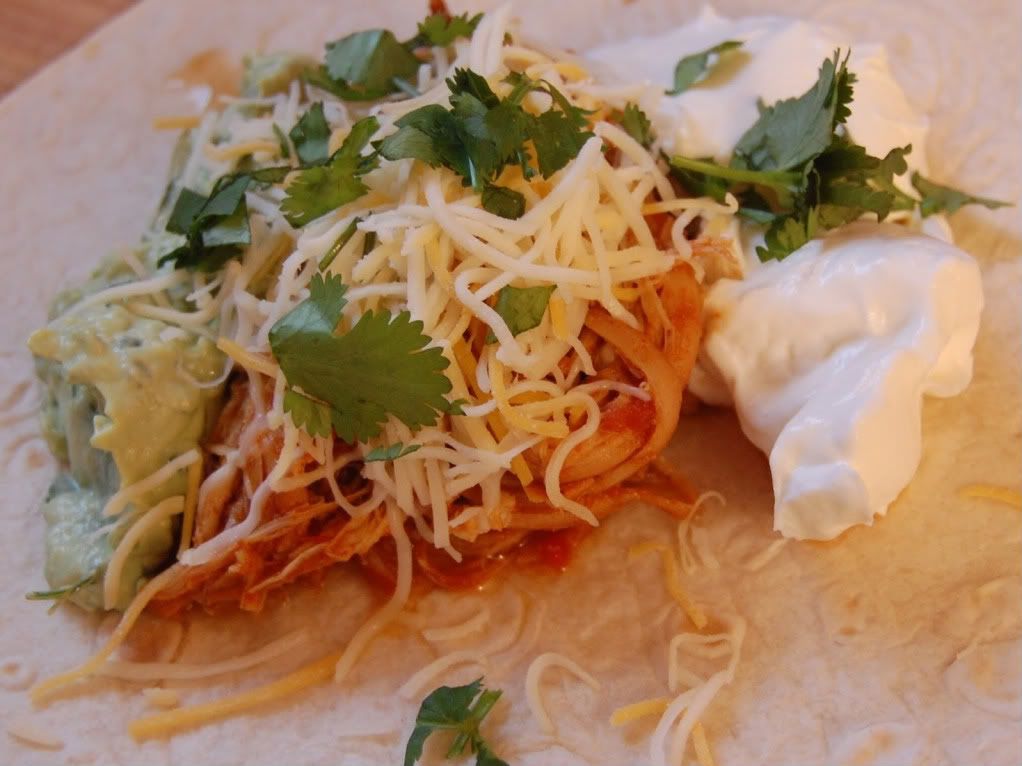 You may have noticed that I have a little problem when it comes to Mexican food. This problem is particularly evident in the photos accompanying
this tortilla soup
and
this white chili
.

The problem is that, when it comes to Mexican food, I get really topping-happy. So topping-happy, in fact, that sometimes it's hard to see the actual food I'm writing about. Is there some kind of support group for sour cream and cilantro addicts? Because maybe I should start one.

So what I'm actually writing about today is the chicken you see a glimpse of in the photo, you know, there underneath all of those toppings? This recipe makes the most delicious, moist chicken taco meat I've ever had. And really, it couldn't be any easier. You just throw everything in your Crock pot and forget about it and let the delicious smell permeate your house, and a few hours later dinner is done -- just chop up your desired toppings, and you're good to go! This will be repeated a lot in our house; it's a great way to change up our typical tacos, which are usually made with ground beef.
Slow Cooker Taco Chicken


source: slightly adapted from
Krista's Kitchen
2 pounds boneless, skinless chicken breast

2 envelopes taco seasoning

1 jar salsa

Chicken broth to cover


1. Arrange chicken in the bottom of slow cooker. Add taco seasoning and salsa. Stir to coat. Pour in enough chicken broth to cover. Turn slow cooker to lowest setting and cover.


2. Remove chicken to a plate or casserole dish when it is fall-apart tender, about 5 hours. Shred meat. Return to cooking juices. Heat through. Serve with warmed tortillas.