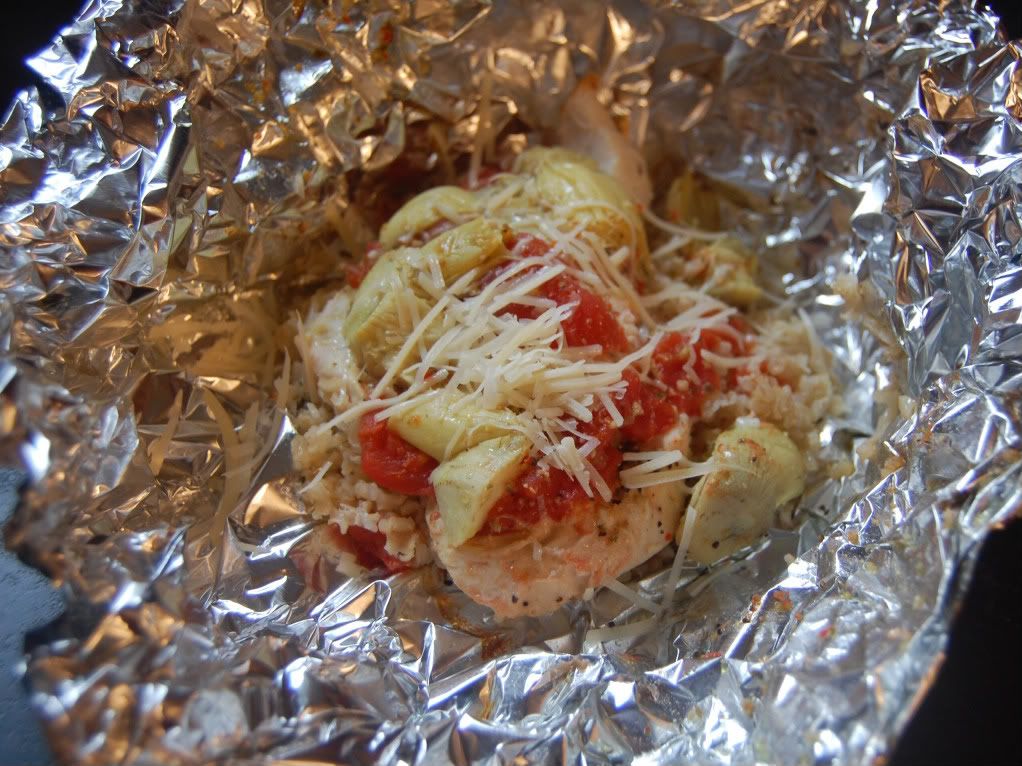 It seems like I'm all about the rice dishes lately, huh? I've now posted three rice-centric recipes in a row. Hopefully later this week I'll have a little bit more variety for you!

I'm a huge fan of foil-packet dinners like this -- they're sort of like one-pot wonders, only wrapped in foil instead. This is a complete meal in one, with chicken, vegetables, a starch, and even a delicious sauce. We all really liked this meal a lot. I pretty much stuck to the original recipe, except I used brown rice, adjusted for serving size and added a sprinkle of cheese to the top of each packet (because cheese makes everything better, right?). This was so incredibly low-maintenance, and really flavorful and delicious too. Can't beat that!
Foil-Pack Chicken with Artichokes, Tomatoes, and Rice
source: adapted from Kraft Foods

1 1/2 cups instant brown rice, uncooked
1 1/2 cups warm chicken stock
3 small boneless skinless chicken breast halves, 1/2 inch thick
Salt and pepper to taste
1 can artichoke hearts, drained, quartered
1 can diced tomatoes, drained
1/2 cup Italian dressing
1/4 cup pesto
Parmesan cheese

1. Heat oven to 400°.

2. Mix rice and chicken stock; spoon onto centers of 3 large sheets heavy-duty foil. Top with chicken. Season with salt and pepper to taste, then top chicken with artichokes and tomatoes; drizzle with combined dressing and pesto.

3. Bring up foil sides. Double fold top and both ends to seal each packet, leaving room for heat circulation inside. Place on a baking sheet with rimmed edges.
4. Bake 30 to 35 minutes or until chicken is done. Remove packets from oven; let stand 5 minutes. Cut slits in foil with sharp knife to release steam before opening. Sprinkle with parmesan cheese.