I couldn't let the week pass without sharing a savory apple recipe with you, and the one I chose turned out to be delicious. This cheddar- and apple-stuffed chicken has the perfect balance of flavors: It's buttery from the cracker coating, sweet from the apples, and sharp and tangy from the cheddar.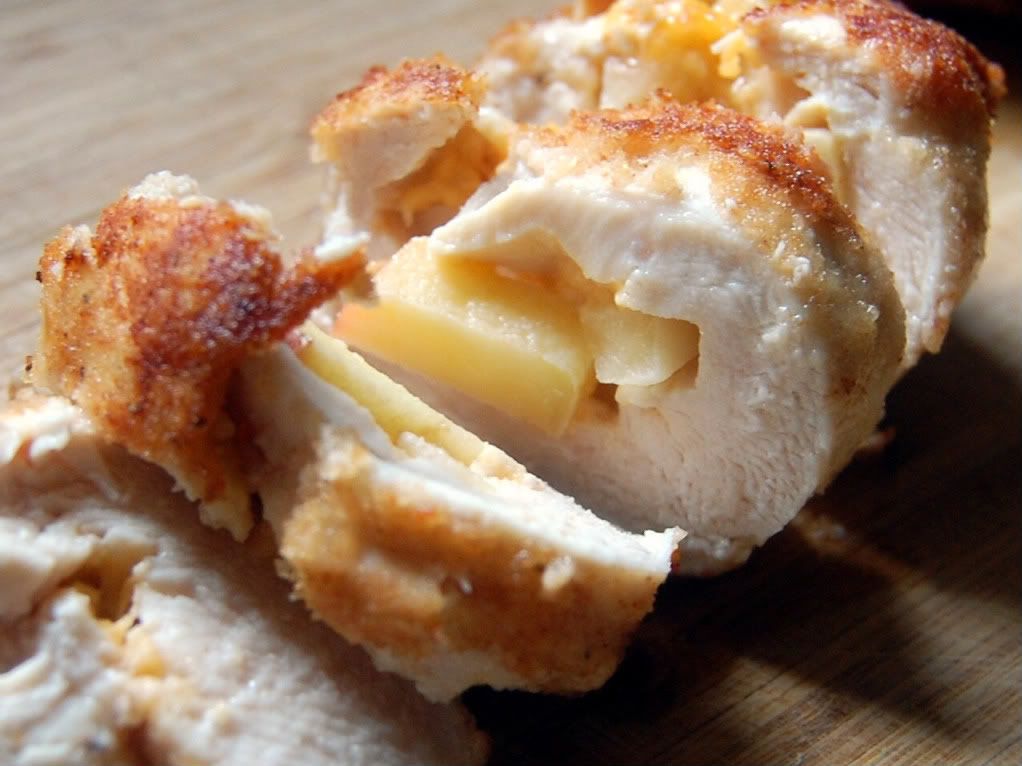 If you've never tried cooking with apples in savory dishes, you should definitely give it a shot. Apples are perfect with pork (like in these sausage-stuffed apples), and they also pair nicely with the sweetness of shellfish (like in this scallop saltimbocca). And don't even get me started on how much I love putting apples in stuffing! Chicken and apples is another natural pairing, since chicken is such a mild meat that it takes on the flavor of whatever you pair it with. In this dish, the chicken takes on the flavors of apples and cheese, and the result is delicious.

I chose a sweet Honeycrisp apple to use in my filling, because I thought the sweetness would pair nicely with sharp cheddar. It did! Give this chicken a try; it's so quick and easy, and I promise you'll be tantalized by this combination.



Apple- and Cheddar-Stuffed Chicken


inspired by Taste of Home

4 chicken breast halves, pounded to 1/4-inch thickness
1 cup diced sweet apples
1/4 shredded sharp cheddar cheese
Salt and pepper to taste
1 egg
1/2 cup crushed buttery crackers (like Ritz)
1/2 cup breadcrumbs

1. Preheat oven to 350 degrees.

2. Combine apples and cheese in a medium bowl; sprinkle 1/4 of the mixture over the top of each flattened chicken breast. Roll chicken up and secure with toothpicks. Season with salt and pepper to taste.

3
. Combine crackers and breadcrumbs in a shallow dish and scramble egg in another. Dip each chicken breast in egg, then in cracker mixture.

4. Shallow-fry chicken in olive oil or vegetable oil just until all sides are browned; transfer to a rack on a baking sheet. Cook in pre-heated oven until chicken is cooked through, about 15 minutes.